OneNote 2016 Tip & Tricks (eBook by Microsoft)
Essential features, techniques and timesavers in MS OneNote 2016 for Windows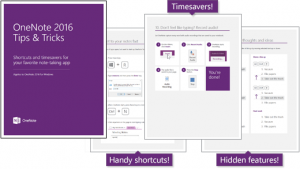 Moving from Evernote to OneNote
If you're thinking of moving from Evernote to OneNote – here is more information about how to, incl. an importer.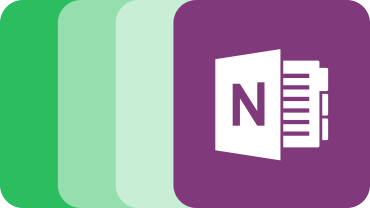 What is Microsoft OneNote?
OneNote is part of Microsoft's Office 365 suite. It's primary use is for quick, efficient free form note taking for individuals and/or for secure multi-user collaboration. It's the perfect tool to share information safely and get tasks more efficiently done.
What is OneNote most commonly used for?
OneNote is a the perfect tool for project planning, task management and collaboration from and within a project. Its synchronization with OneDrive makes all information in a OneNote notebook accessible from everywhere on all devices.
How OneNote Works – Notebooks, Pages, Sections and Subsections
A "Notebook" consists of all the notes you or a collaborator member may write, record or insert onto "pages" which are laid out in "sections" and "sub-sections" – rather like a filing cabinet.  In order to keep an efficient structure, a notebook would normally be created for each individual project, department, phone call or meeting. Then the magic starts to happen … because OneNote automatically saves what you've done on your OneDrive and synchronizes it so nothing can be missed or forgotten, and you can access it and continue on from any device if need be. OneNote 2016 also lets you store your notebooks locally – i.e.: on your PC or external storage.
OneNote  – File Management and Emails
Email is by far one of the most commonly used forms of communication, collaboration and file sharing … yet it poses a real security risk being totally open and unsecured, plus larger files may well clog up your inbox, arrive late or not at all.  None of that is a problem in OneNote.
Any number of files can be easily inserted into a notebook which is privately stored at the shared cloud storage of the company. That particular notebook can then be shared with specific individuals to either just "view" or "edit" those files via invitation – particularly helpful when trying to arrange a meeting for example via Outlook as notes can be created directly within the calendar for automatic and immediate distribution to those involved and invited.
OneNote – Workflows and Task Management
By simply "Dragging & Dropping" an important email into OneNote with a flag, it automatically adds it to your follow up tasks in Outlook so you can't forget. Better still, the original email can be archived in the notebook helping you to keep your inbox manageable. it's also easily searchable and provides a clear overview of your tasks along with the associated correspondences.
OneNote – Collaboration on Shared Documents and Team Management
OneNote is perfect for managing teams, tasks and documents. Being able to share, communicate and collaborate securely is quick, efficient and simple.
Individual pages or complete notebooks can be shared via email, permissions or by sending out a link.
Email: Sharing individual pages via email can be done via an Outlook event by clicking on the Meeting Notes symbol.
Permission: Sharing pages and notebooks by permission can be done via invitation so the individual(s) are provided with access to your company's own OneDrive storage to either "view" or "edit".
Link: Sharing a notebook can also be done via via sending out a link.
News: Microsoft announced in November 2019 that OneNote 2016 Desktop version will not be going away. In 2020 it will be included in the Office 365 Pro installations. Read news here