A secure cloud based client portal
Give private 24/7 access to your client so they can download or review information you need to provide to them (e.g.: Invoices, Quotes and any other documents or communications etc …).
You can also work and collaborate on projects, ideas and ventures with your clients securely.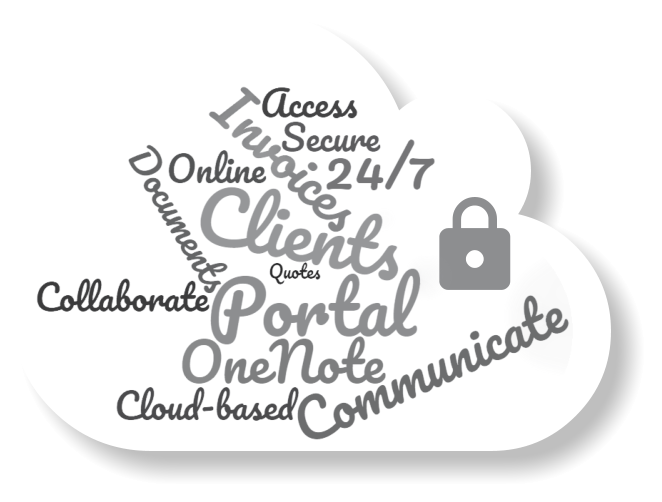 Quick, safe, secure & efficient
Stop sending documents by unsecured email – use a secure online portal instead.
Three reasons why you should use a client portal:
Increase your productivity
Automating and streamlining business processes for your clients can increase your bottom dollar.
Improve customer loyalty
Making timely, accurate information available to your clients and being seen to be responsive makes it more likely that you will retain the client's business.
Increase responsiveness
Granting 24/7 access to documents and information for clients improves flexibility and responsiveness for you and your customers.

Improve Customer Loyalty & Increase Responsiveness
Client Portal powered by OneNote is easy to install and includes the following:
Get Started

Step by step guide to get you started

Client details

Client can update their own details

Invoices

Drag & drop invoices into your client portal

Projects

More efficient collaboration on projects
Client Welcome Page

Welcome page for your clients with benefits and usage explanation

Messages

Quick and safe communication – no more unsafe emails

Quotes & Estimates

Deliver quotes and get paid more quickly

Documents

Deliver documents without sending them via unsecured email
All information securely accessed by clients, anywhere, anytime and on any device.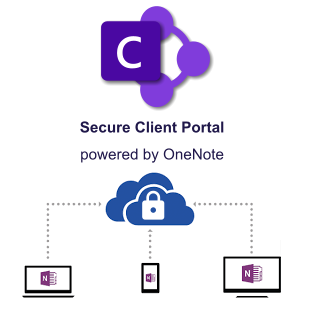 Benefits
Secure 24/7 access
Far better security than email
Easy to use
Cost effective
Easily share & collaborate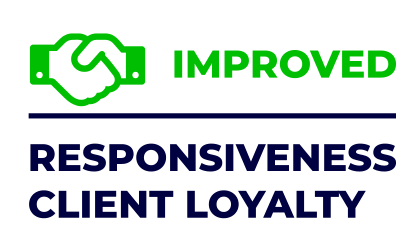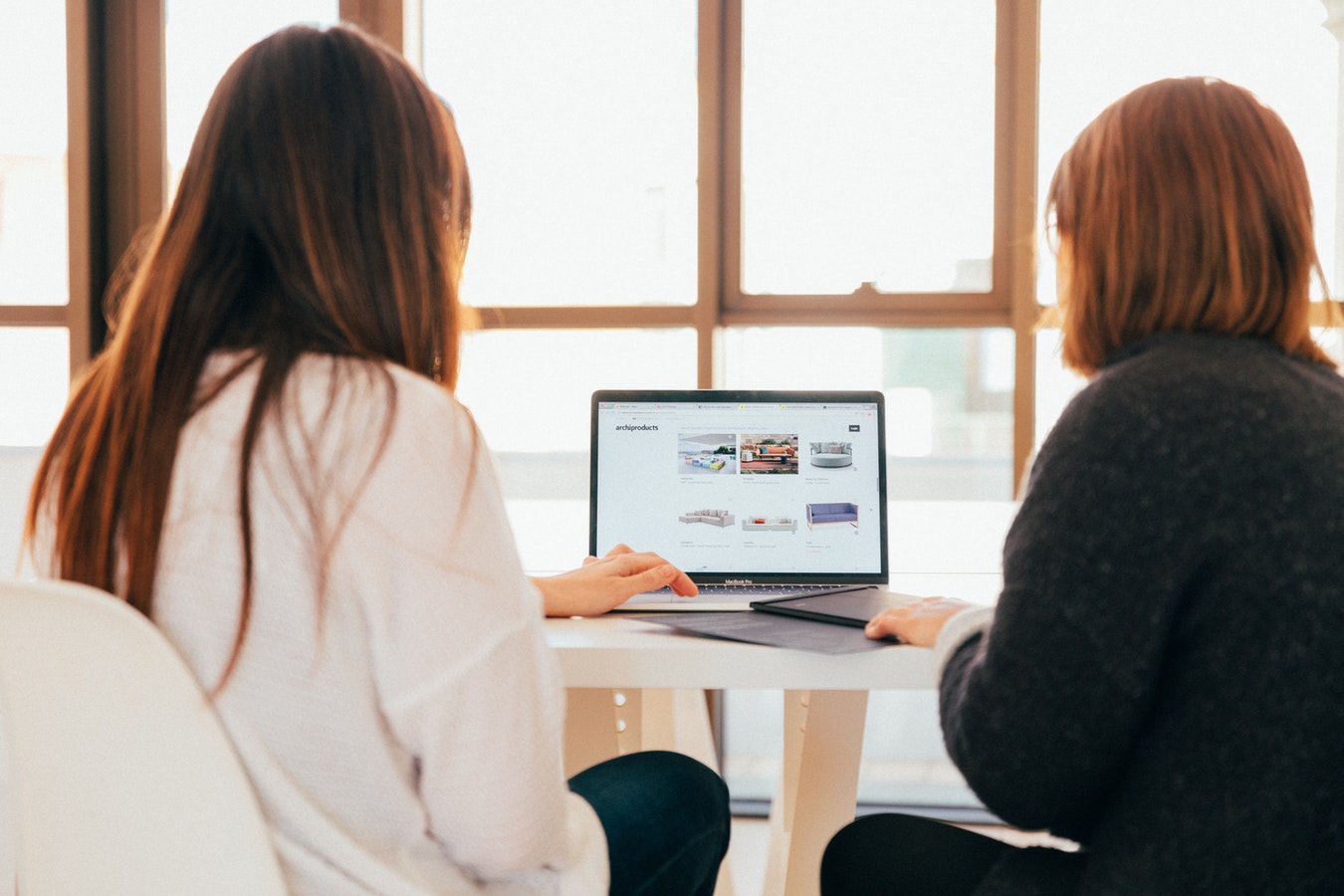 We use OneNote for all our projects, this gives us a standardized portal for all our clients.
CRM's are an overkill for me with less than 20 clients. This is the perfect solution – Thanks
Who is it for?
Freelancers, sole-traders and small businesses …
… who want to be more efficient and have one central private place for all their business information, communication and resources.
Easy steps to get you started
Detailed instructions to make sure you benefit fast.
Screenshot shown in OneNote Online and OneNote 2016.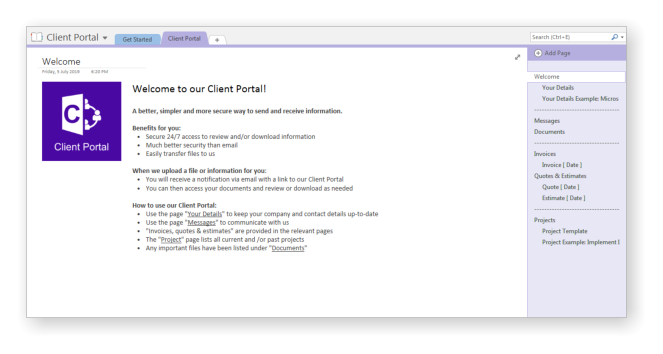 Quick & simple for your clients
Benefits and usage are well explained.
Client details always up-to-date
The client can update their own details.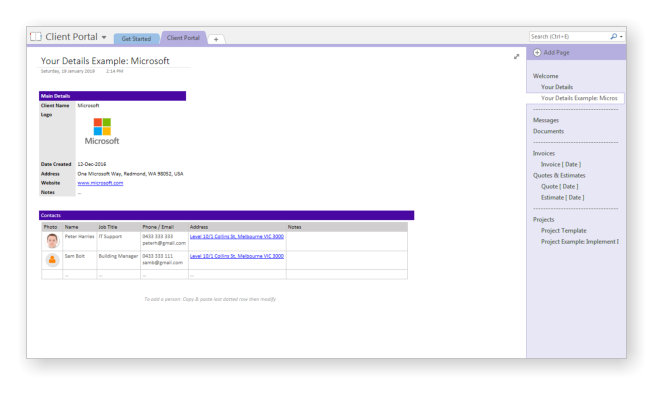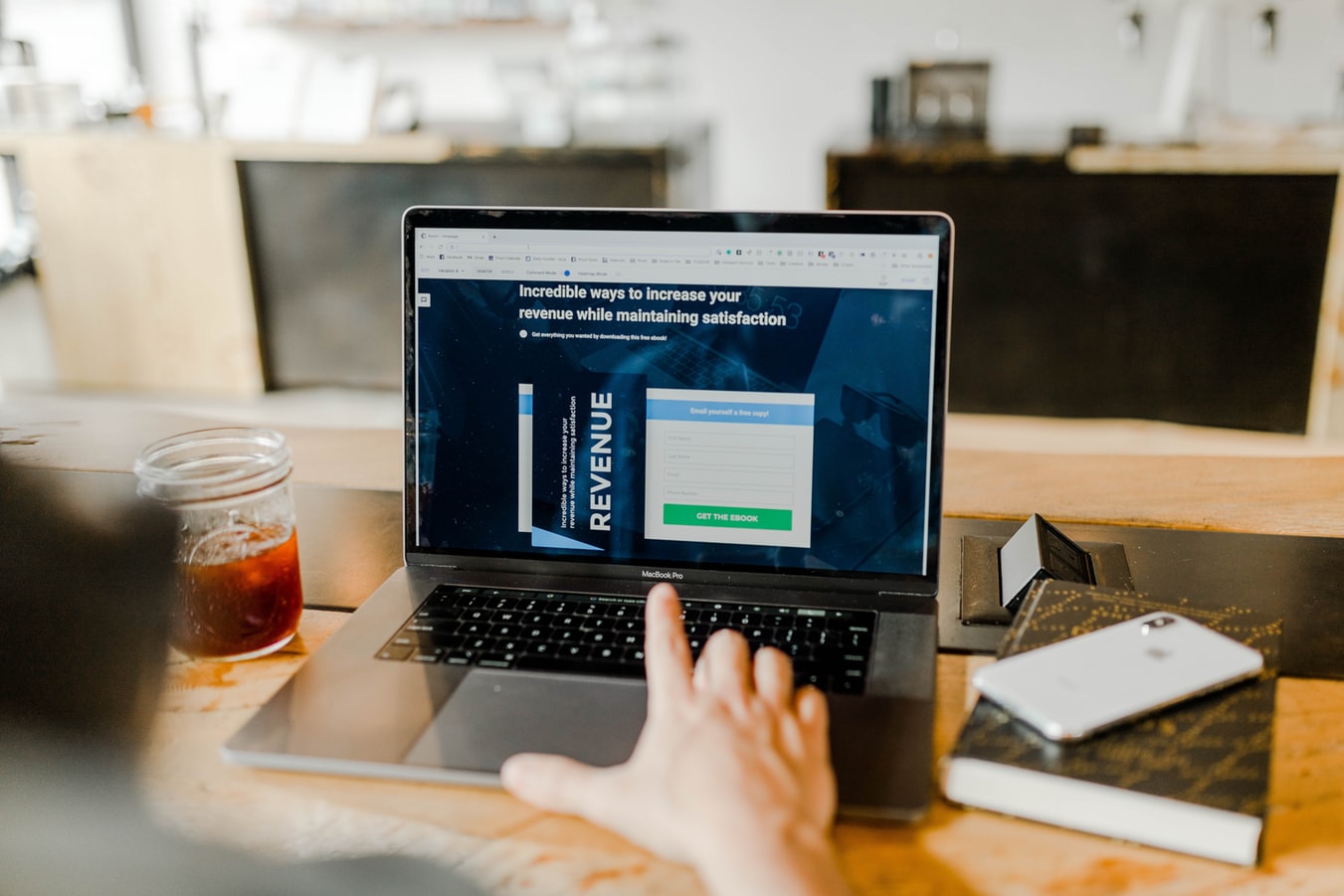 Deliver quotes & get paid more quickly
No need to change how you create your invoices, quotes & estimates just drag & drop them into your client portal instead of emailing them.
Quick & safe communication
Messages in one central place. You can even store emails.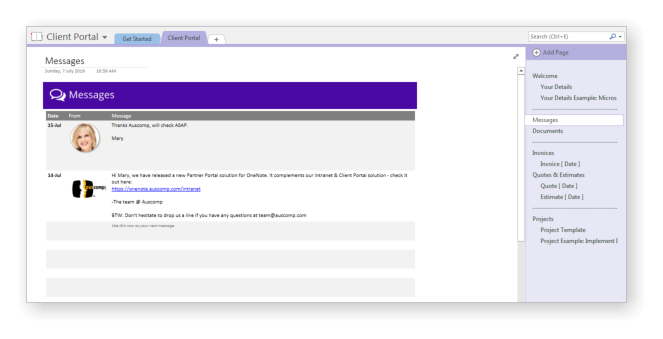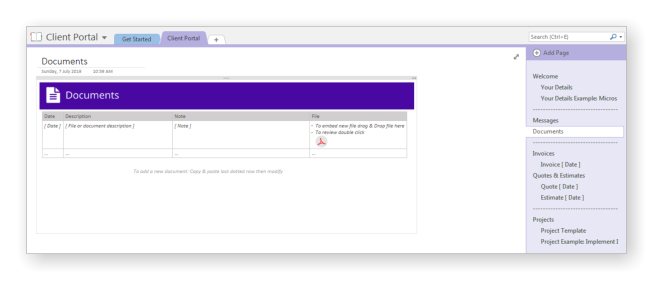 Deliver documents & files without sending them via unsecured email
Manage, share any files & documents.
More efficient collaboration on projects
Who does what, when and where. Keep everyone in the loop.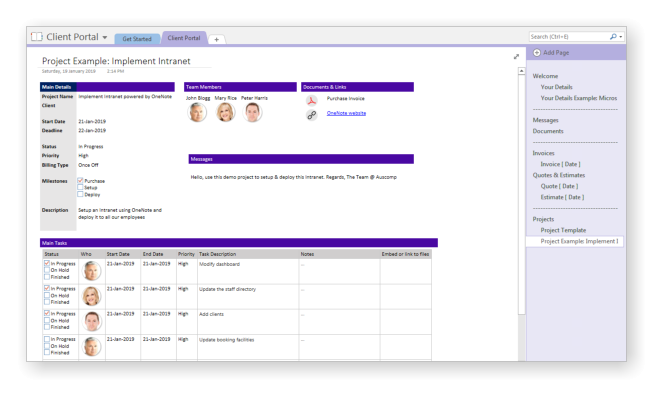 Business Pack
3 Notebooks


Business Suite
11 Notebooks with 100+ Templates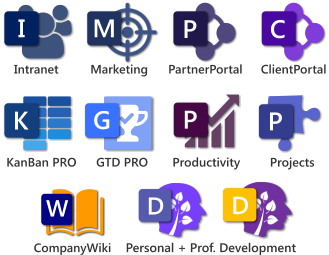 Business Bundle
6 Notebooks