Benefits
Better chance of getting the desired result
Increase customer satisfaction
Prioritize your resources and be more efficient and productive
Be in control of the project from the start
Stay on top of schedule and costs
Keep all stakeholders in the loop
Gain competitive advantage
Save time and money
Pricing everyone can afford
Purchase is once off … yours to keep forever!
World-class support included.
Unleash the power of OneNote for your Projects
Did you know that OneNote is much more than a note taking program? It's the ideal platform for project management with it's collaboration feature for managing projects of all types and sizes.
Project Example (Use mouse over to zoom)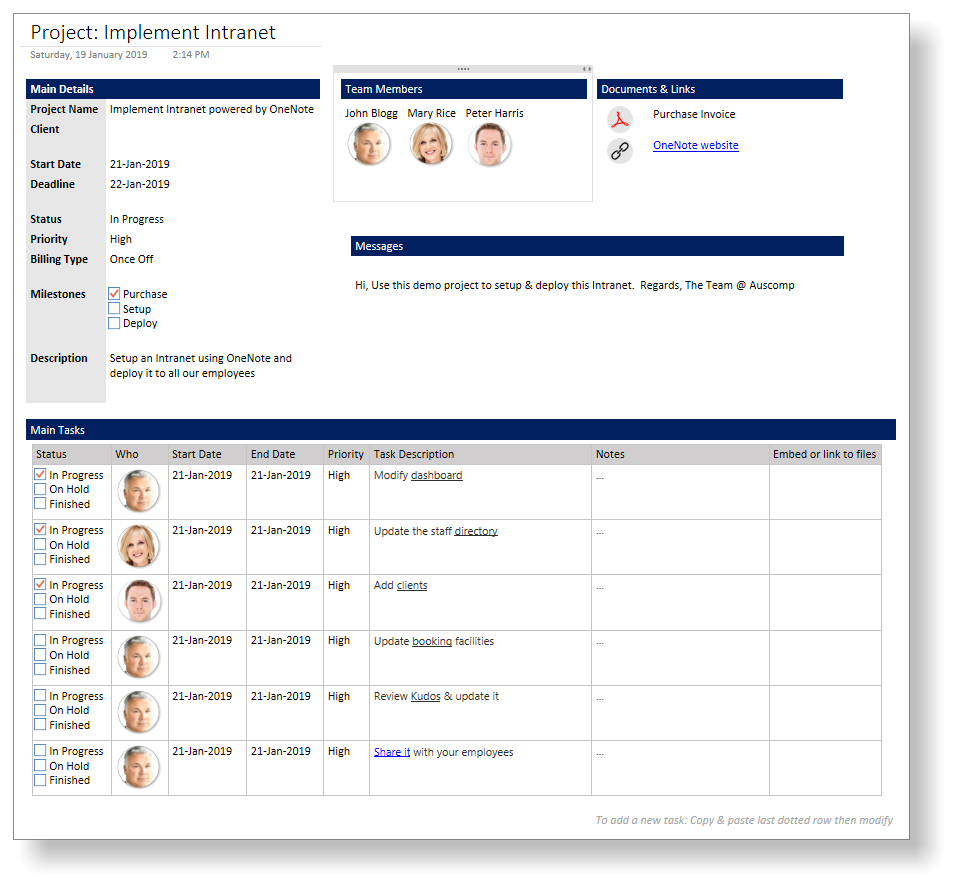 Here are templates for all major phases of a project to get you started.
Project Proposal

The project proposal is used to convince sponsors, stakeholders and/or clients that a project needs to be carried out to either solve a particular business problem,or take advantage of certain opportunities.

Project Template

The project template can be used as a template for every new project.

Project Status Report

The project status report is used to update the project team, sponsors or stakeholders on how the project is progressing.

Project Example

An example how to use the project template
Project Charter

The project charter or project definition document clearly defines the objectives, scope, goals, stakeholders and teams involved.

Project Schedule

Details about what work will be performed, by whom and when.

Project Time Line

A timeline helps you visualize complex information in an easy-to-understand way, especially when you need to share status with external stakeholders (eg: clients …)

Project Meeting Minutes

Project meetings should be held periodically so you can keep track of the project status, to discuss any issues that have arisen, and make decisions when needed. The template helps you to set the agenda for these meetings.