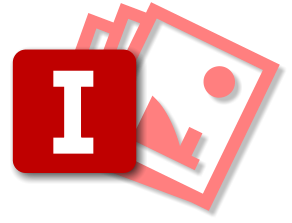 Empowering Insights Through AI-Driven Imagery
A Guide & Templates to Visualize the Future
Using OneNote alongside your Image AI projects (Bing Image Create, Midjourney or DALL-E etc …), can play a pivotal role in enhancing your projects. By using these guides, power tips & templates you can seamlessly gather, organize, and annotate information related to your Image AI endeavors.
By integrating text, images, drawings, and other multimedia elements, this Image AI template for OneNote helps you create a comprehensive knowledge repository that's easily and quickly accessible across all devices.
Structure Meets Vision: OneNote Templates for Streamlined Image AI Progress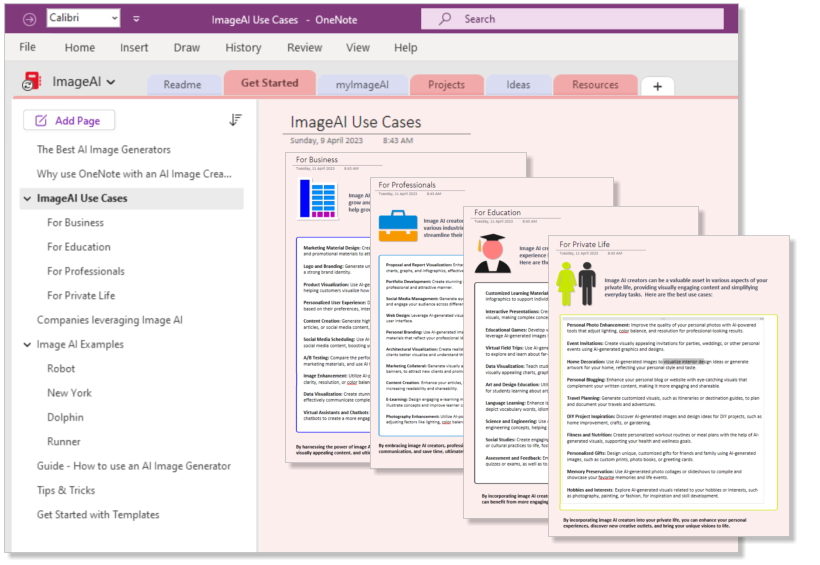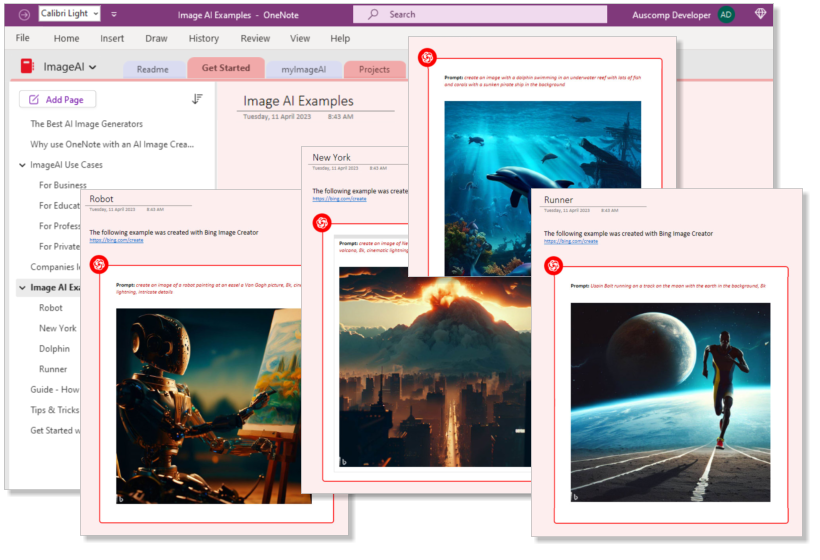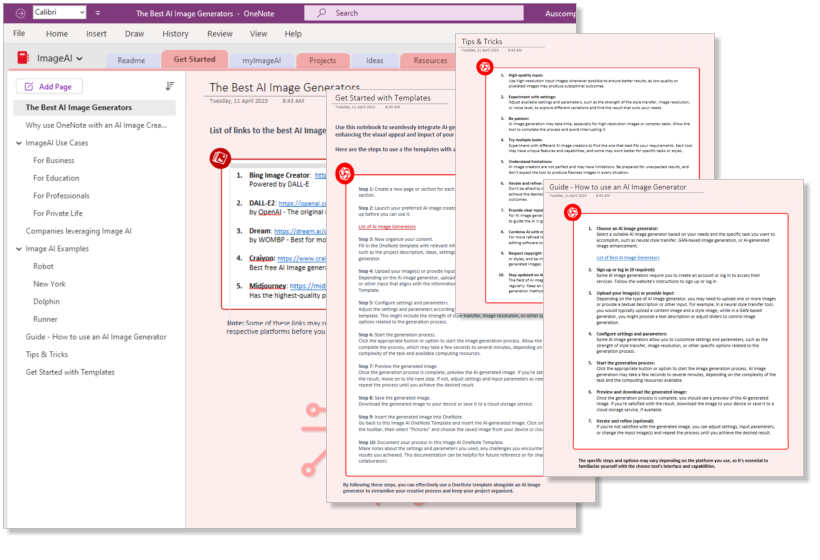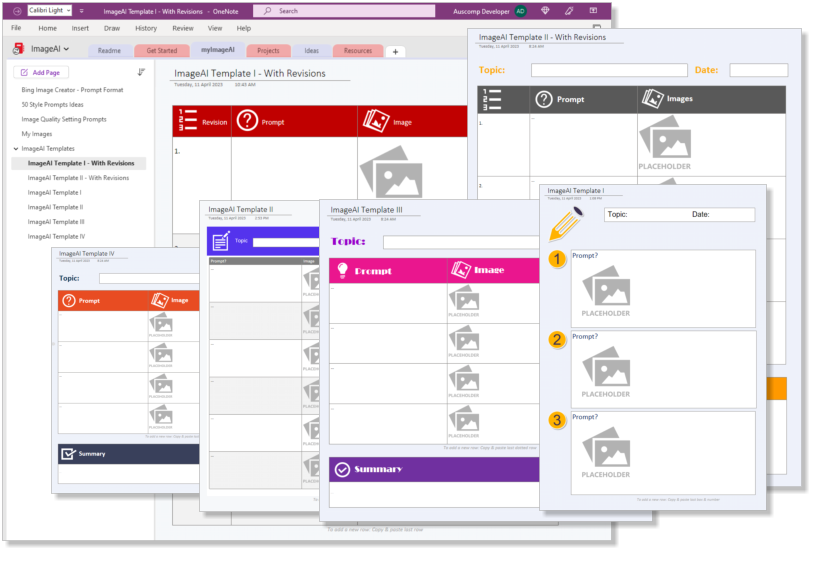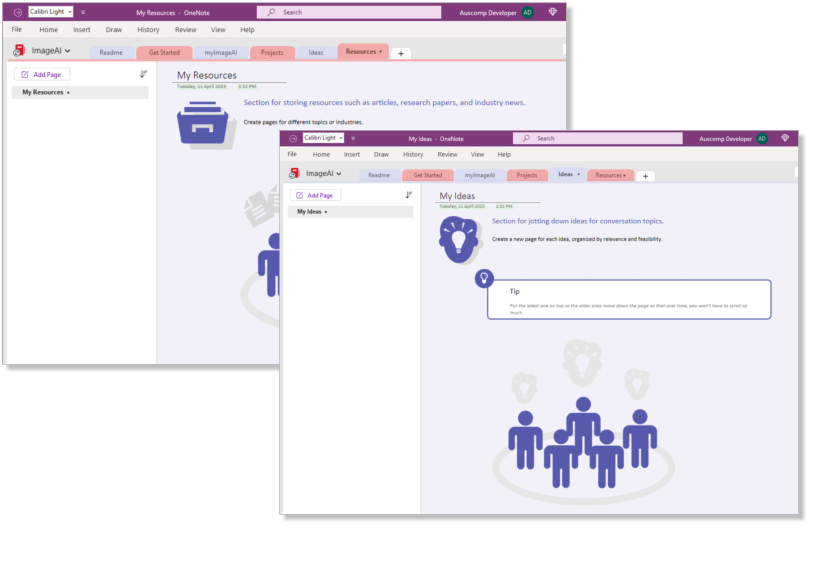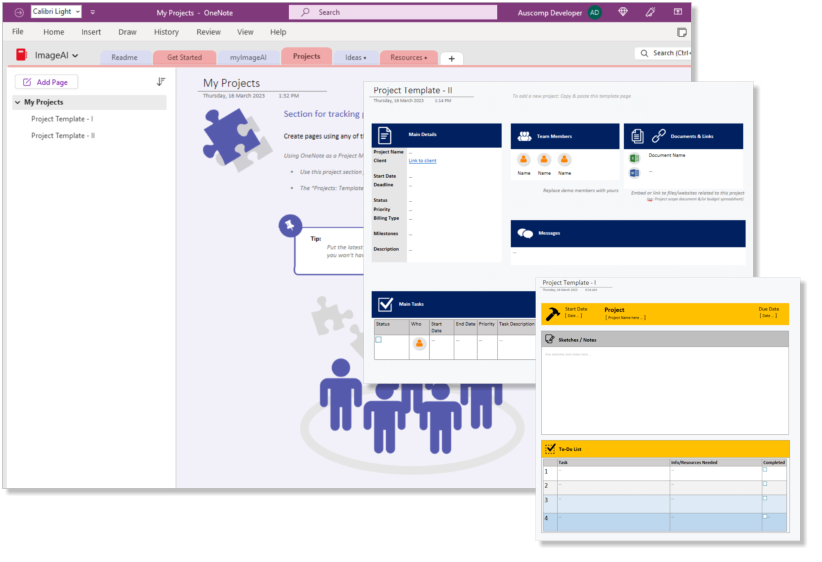 Section for Ideas & Resources








OneNote Image AI +  bonus Calendars & Planners
Incl.: Practical Use Cases, Guides, How to, Power Tips & Tricks, Examples & Templates for Bing Image Create, Midjourney or DALL-E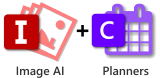 PRO Booster Business
9 Notebooks with 100+ Templates & Guides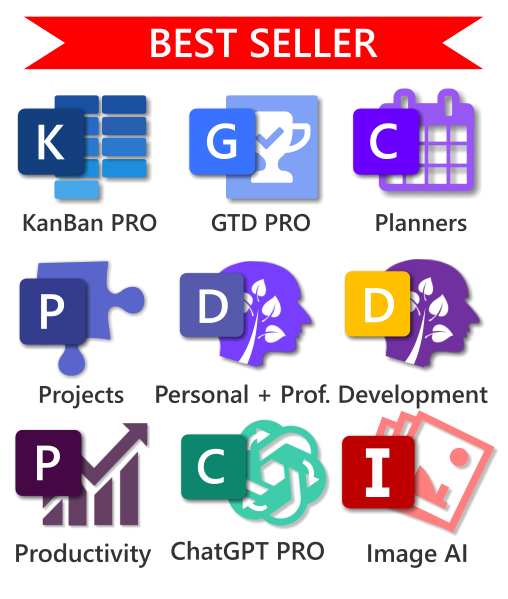 Unlock Endless Imagination: OneNote Templates for Efficient Image AI Advancement
---
Purchases are once off and include support – Yours to keep forever!

Templates are distributed in OneNote notebooks and instant delivered via email.

Licenses are for the specified amount of users across all devices supported by OneNote. 

All prices are in USD.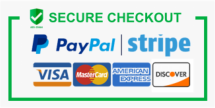 OneNote Image AI includes …
Getting Started

Step 1 – Readme
Legal
Others

Guides, How to, Tips & Tricks & Examples

List of Best Image Generators
Why use OneNote with an Image Generator?
Guide – How to use ChatGPT
Tips & Tricks
Companies leveraging Image AI
Image AI Examples
Get started with Templates

Practical Use Cases

By exploring these practical examples (for Business, Professionals, Education & Private Life), users can better grasp the full range of possibilities that Image AI offers and adapt these use cases to their specific needs.
Templates & myImageAI Section

Bing Image Creator – Prompt Format
50 Style Prompt Ideas
Image Quality Setting Prompts
myImages
6 Image AI Templates to get you started quickly

Resources Section

Section for storing resources such as articles, research papers, and industry news

Ideas Section

Section for jotting down ideas for conversation topics

Projects

Section for all your Projects & Tasks
Incl. 2 Project templates
Note:
Templates are distributed in easy to install OneNote Notebooks and instantly delivered via email. 
The notebook structure can be customized to fit the specific needs of any user and their work environment.
Bonus collection of 32 ready made planners & calendars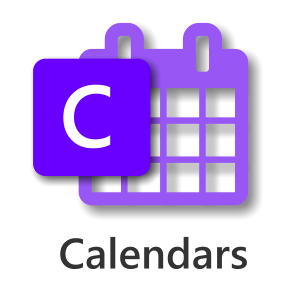 Daily Planners
Expenses @ a Glance
Birthdays @ a Glance
Landscape
Portrait
Recurring Expenses
Bills Organizer
Weekly Editable
Weekly Time
Weekly Chores & Responsibilities
Weekly Chores for Kids
Daily Time
Organize Your Day Planner
One Day At A Time Planners
4 Weekly Planners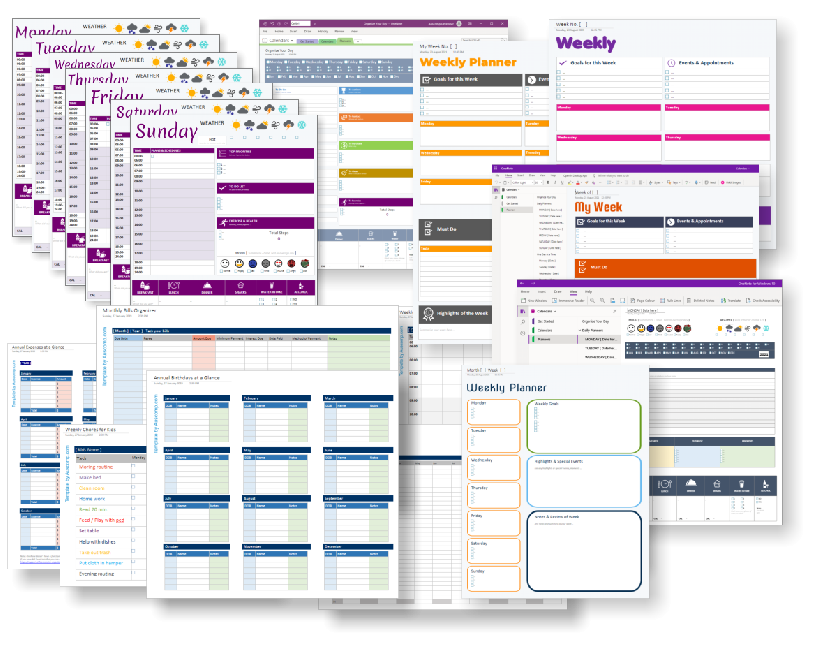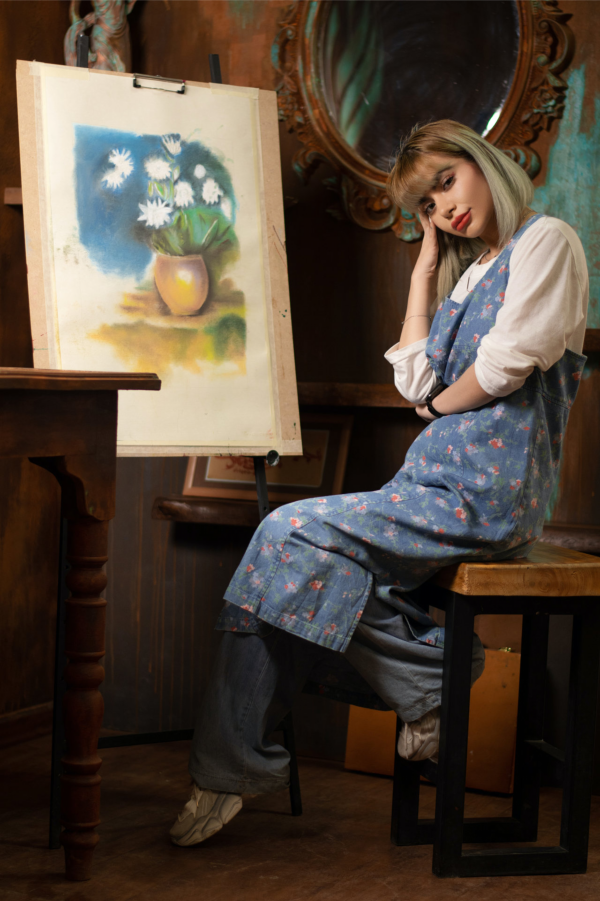 This opens a complete new world!
Getting ideas for packaging was never as easy.
I started generating Artwork for my clients … and they LOVE IT!