Be more productive. Save time & money.
The pro version makes things clearer and you become more efficient. It lets you group tasks into swimlanes and link tasks to project pages with the easy to use template. You can also modify the board column labels to suit your needs and highlight tasks using the extra symbols and images.
Use KanBan Board Basic for Private use – Pro for Work and if you want to do more
Organize, Manage & Visualize your Tasks, To-do's & Projects in OneNote the Easy Way
Group by categories or projects (Swimlanes)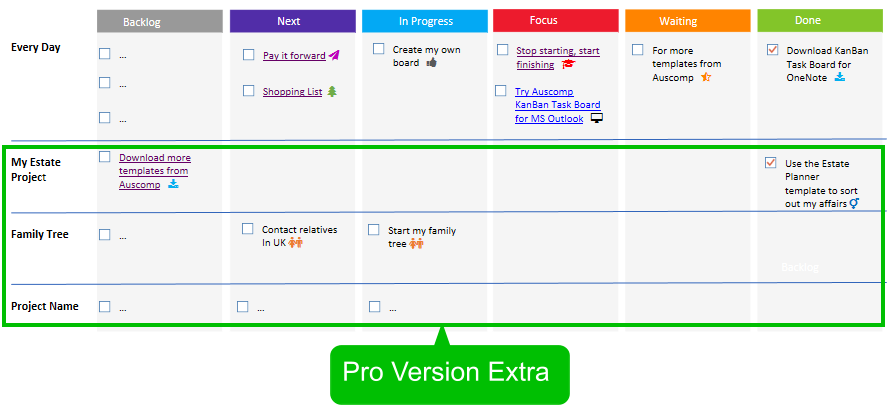 Highlight Tasks using Symbols & Images


KanBan for Everyone
We've added another 8 new KanBan Board Types in the PRO version to suit your workflow even better now (Day to Day, Personal, Sales, HR …) plus you still have the existing default KanBan one (Backlog, Next, In Progress, Focus, Waiting & Done).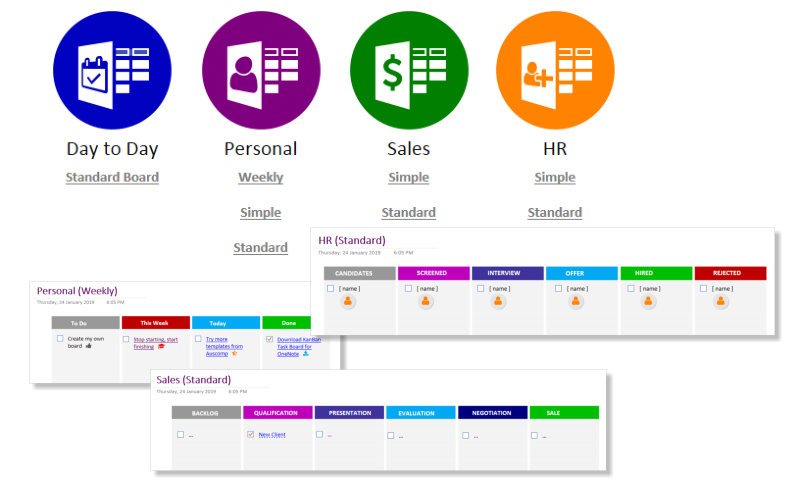 Focus On What Matters Most
Link Tasks to Projects
Using the predefined Template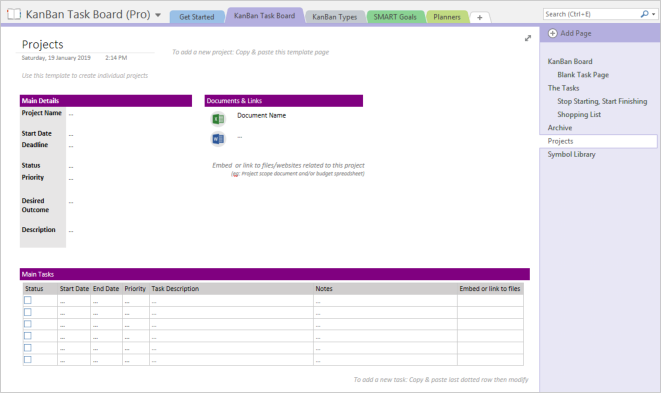 SMART Goals
People who set SMART goals are more likely to reach their goals. Set your SMART goals with a how to guide, example & template.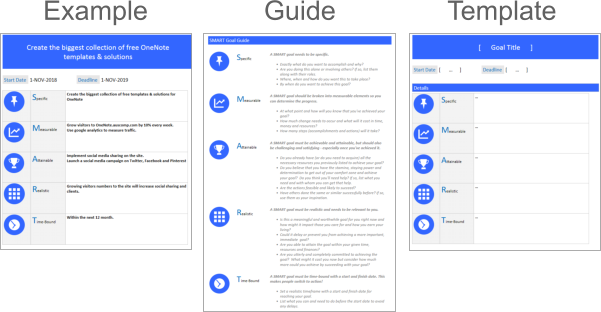 More KanBan PRO Productivity & Time Saver Templates
Eisenhower Matrix
The Eisenhower method helps you to organize tasks in order of priorities.
"What is important is seldom urgent and what is urgent is seldom important"
DO IT NOW | Do first – What is Urgent & Important
SCHEDULE | Do Later – What is Important but Not Urgent
DELEGATE | Outsource – What is Urgent but Not Important
AVOID | Eliminate – What is Not Important & Not Urgent
Brainstorm Worksheet
This worksheet lets you capture, develop & prioritize multiple ideas around a topic.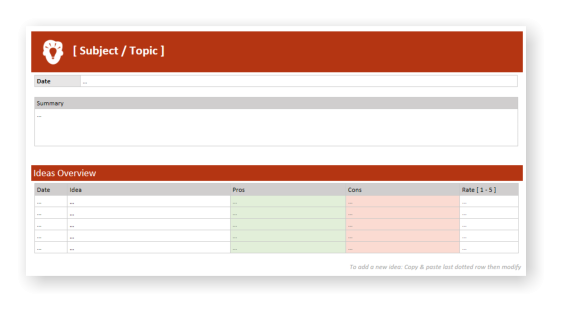 Start-Stop-Continue
The Stop Start Continue technique is an easy and quick way to find out what should, could or would work.
It's a simple metric to help you identify where to spend your time.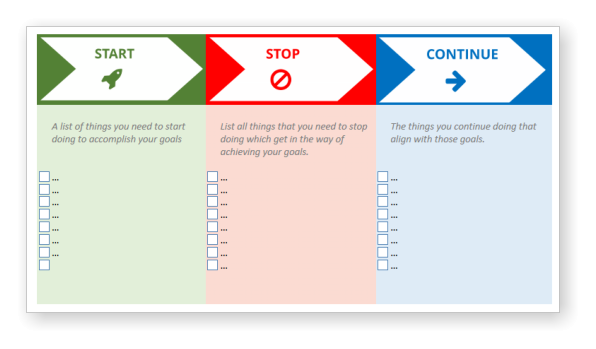 Ideas Planner
Use this template to plan your idea/project by listing & assigning steps.
Benefits
Versatility
Continuous Improvement
Responsiveness
Increased Output
Empowerment
Better Organization
More Productivity
Saving Time & Money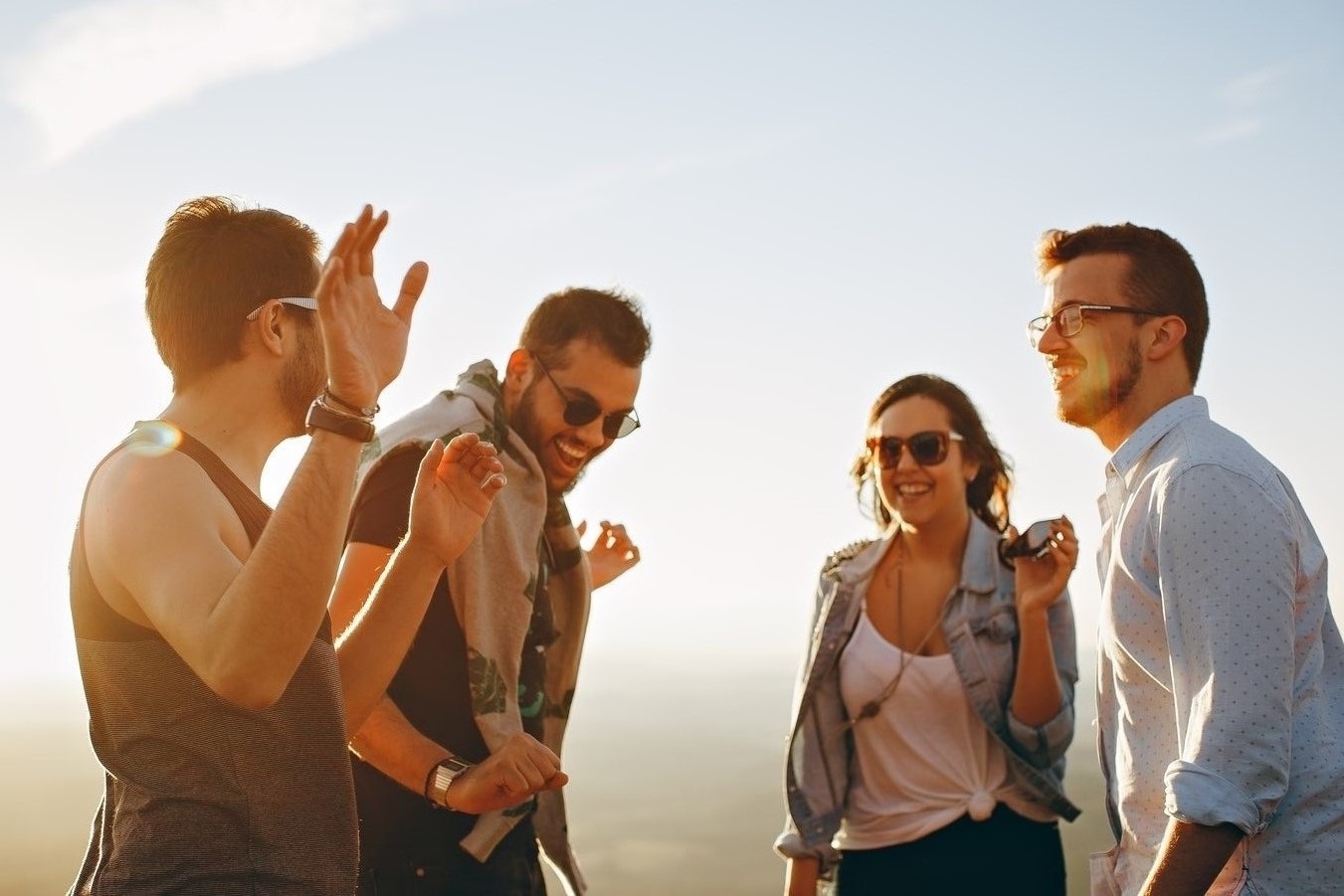 Simple – Secure – Anytime – Anywhere