Discover OneNote: An Unsung Hero for Project Management:
If you're familiar with Office 365, you may be pleasantly surprised to discover the robust capabilities of OneNote for project management. This platform boasts an expansive array of features, making it adept at managing a myriad of tasks and data. Its seamless integration with Office 365 further enhances collaboration, ensuring a cohesive project experience.
In this piece, we'll delve into 9 key ways OneNote can revamp your project management strategies. Regardless of whether you're taking your initial steps in project management or have been in the arena for years, this article promises valuable insights.
Still on the fence? Consider these undeniable advantages of effective project management:
Achieving your envisioned outcomes.
Elevating customer satisfaction.
Optimizing resource allocation for heightened efficiency and productivity.
Commanding control right from a project's inception.
Ensuring punctuality and cost-efficiency.
Keeping every stakeholder informed and engaged.
Securing a competitive edge.
And, most importantly, saving both time and money.
Eager to dive in? Let's embark on this journey!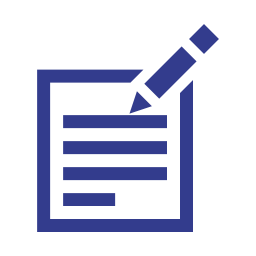 1. Clearly Define Your Project Goals
Every successful project begins with a clearly defined plan to get clear on objectives, goals, milestones and stakeholders.
A good OneNote template makes it easy to define your objectives, set goals, and create key performance indicators.
It's important to define these objectives in advance so that you can track your progress throughout a project.

2. Store and share agendas
Create a separate page for each project objective.
On each page, you could list all the tasks required to achieve that objective. You can also include their due dates and resource requirements.
Then, quickly smash your goals by sharing them with your team and creating tags for each task and assigning responsibilities to your team.

3. Centralize and standardize meeting minutes
You can easily capture meeting minutes in OneNote and keep all relevant information together. This includes notes, agenda items, participants and discussion points.
You can also use these meeting minutes as documentation for future reference or to prepare presentations.

4. Keep everyone in the loop
You can quickly create status reports and update everyone on project progress and performance. Make sure everyone gets notified of any activity by turning on notifications for OneNote.
We mentioned this earlier but assigning duties and using tags (ie: In Progress, Next, Waiting, Done …) is an extremely powerful way to easily track progress and organize your team. If you'd like to learn more about this, click here.

5. Manage risk
OneNote makes it easy to create a risk register. This lets you identify risks and minimize their impact before they occur.
To use a risk register:
first, identify all the risks involved with your project.
Next, list those risks in order of importance and severity.
Finally, assign each risk a rating (ie: Low Risk, Moderate Risk …). This way you can easily track progress and adjust your plans as needed.

6. Create a project wiki
Capture all kinds of information, content, and resources for your project and store it in a OneNote wiki.
This way, you and your team can quickly & easily find the information you need, when you need it – utilising OneNote's powerful search function!
To create a project wiki:
first decide what type of information you want to keep track of (eg: tasks, deadlines…)
Then create folders for each category of information.
Finally, add entries to the wiki using Markup Language ( ie: <task name> – description; <due date> – and store it all in OneNote.

7. Store important project information
One of the great things about using OneNote for project management is that you can keep everything in one place. All of your pertinent data and documents are easily accessible from a single location on your computer.
This makes it easy to stay organized and ensures you always have access to the information you need.
Here's some ways you can skyrocket your project organisation:
Create tags, links, folders and sub-folders to store different types of information in an easy-to-access format.
Store important project documents (eg: proposals, contracts) in OneNote so they are always accessible and up to date.
Store meeting notes in Voice or Videos alongside agendas via OneNote's video or recording function.
It's also easy to add Outlook emails to OneNote directly from Outlook.

8. Project post-mortem – what worked and what not
Once your project is complete, it's important to take the time to reflect on what went well and what could be improved.
By recording your thoughts in a Project Post-Mortem, you can identify areas of success and discovery, as well as any areas that required more work or attention.
This will help you build on the successes of your project next time around, while also identifying potential pitfalls for future projects.

9. Use a project checklist to bring structure and order to your projects.
Here's an example of one which is included in our "Project Management Template for OneNote".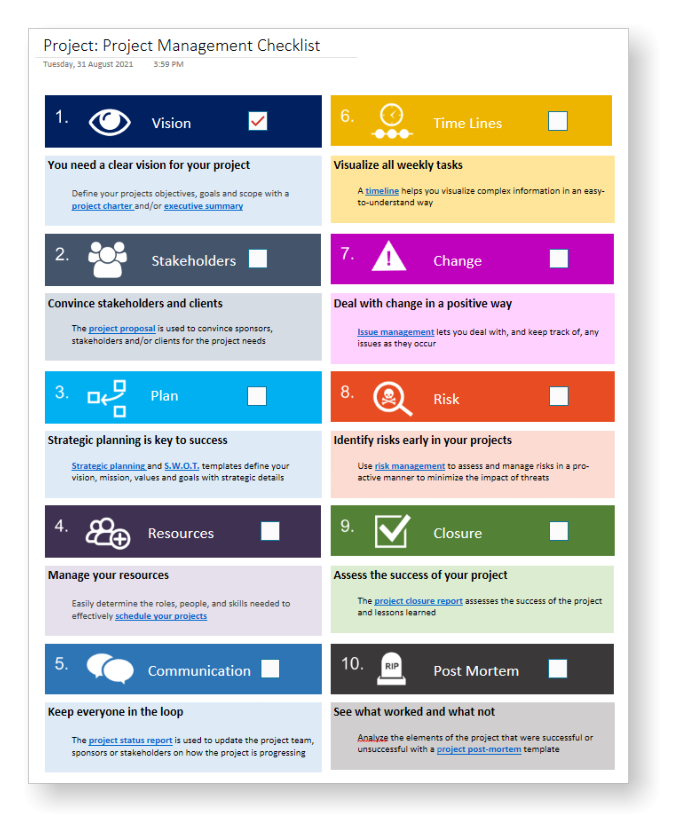 Conclusion
Now that you see the benefits of using OneNote for your next project, it's time to get started.
You've learned that:
Many of OneNote's features are actually extremely versatile and useful in project management.
They allow you to streamline your operations and keep everything in one place,
They also make it far easier to organise your teams and tasks.
We hope that you found this article helpful and inspired you to use OneNote for your next project.
Remember, if you're not a productivity expert or just need a little help…
We've created a project management template with step-by-step instructions for you to get you started.
Destroy the learning curb and become more productive today.