Be more productive. Save time & money.
Auscomp KanBan is a workflow visualization tool that has been adapted for OneNote. It enables you to optimize the flow of your work. 
The pro version makes things clearer and you become more efficient. It lets you group tasks into swimlanes and link tasks to project pages with the easy to use template. You can also modify the board column labels to suit your needs and highlight tasks using the extra symbols and images.
Version 4 – More value same low price! 
KanBan Board PRO if you want to do more
Benefits
More Productivity
Better Organization
Increased Output
Versatility
Continuous Improvement
Empowerment
Saving Time & Money
Immediate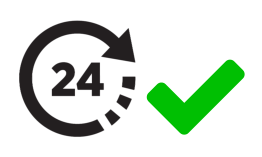 Long Term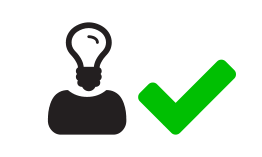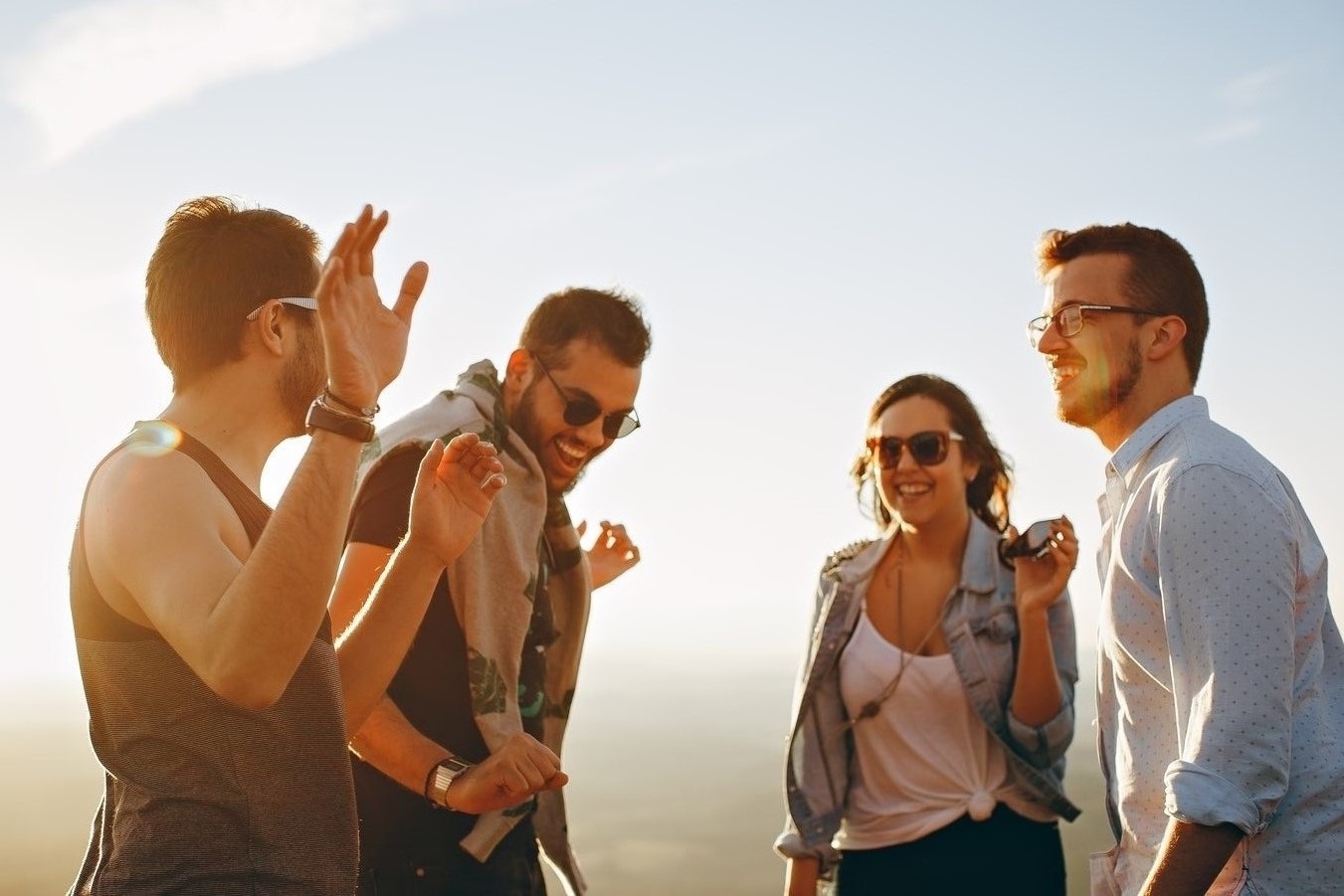 Trying to use OneNote for projects and tasks? This template get's you organized in ways you didn't think you can use OneNote! It's a no-brainer and a time saver!!! 
So nice and so simple. Better still, I don't need any new software as I use OneNote all the time.
Use it to keep on top of all tasks a mother has todo. Use the swimlanes to organize my 3 kids and husband 🙂
I get things done that have been waiting forever to be done.
Love it. Greetings from Sweden.
KanBan plus Calendars for just $15.95 … what a great, helpful combination.
I get projects and new ideas actually done now 🙂
Learn with handy PRO OneNote Tips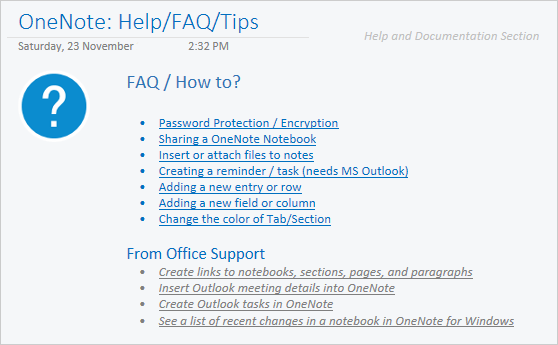 Achieve more by setting SMART Goals – in PRO
People who set SMART goals are more likely to reach their goals. Set your SMART goals with a how to guide, example & template.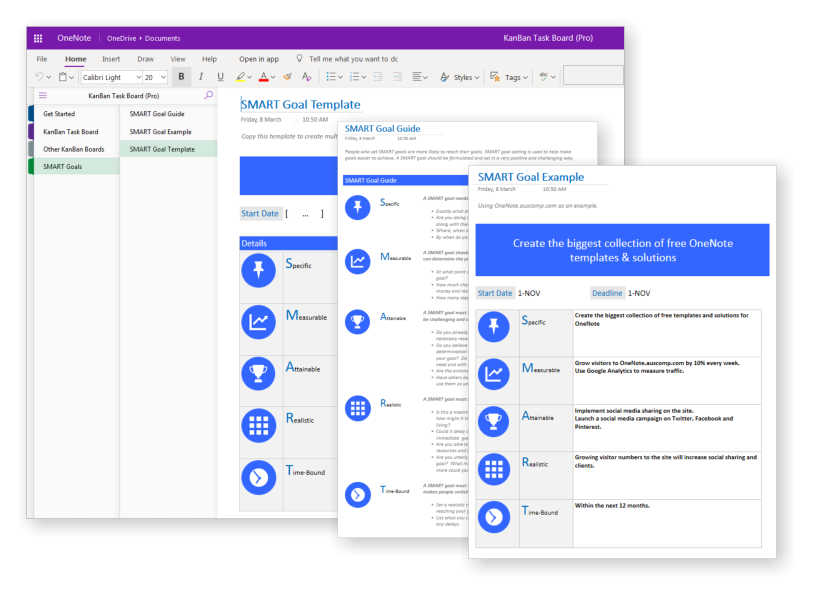 Visualize your tasks and to-do's. Anywhere, anytime and on any device.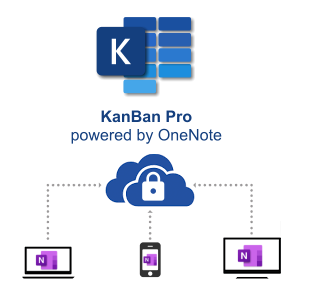 Group by categories or projects (Swimlanes) in PRO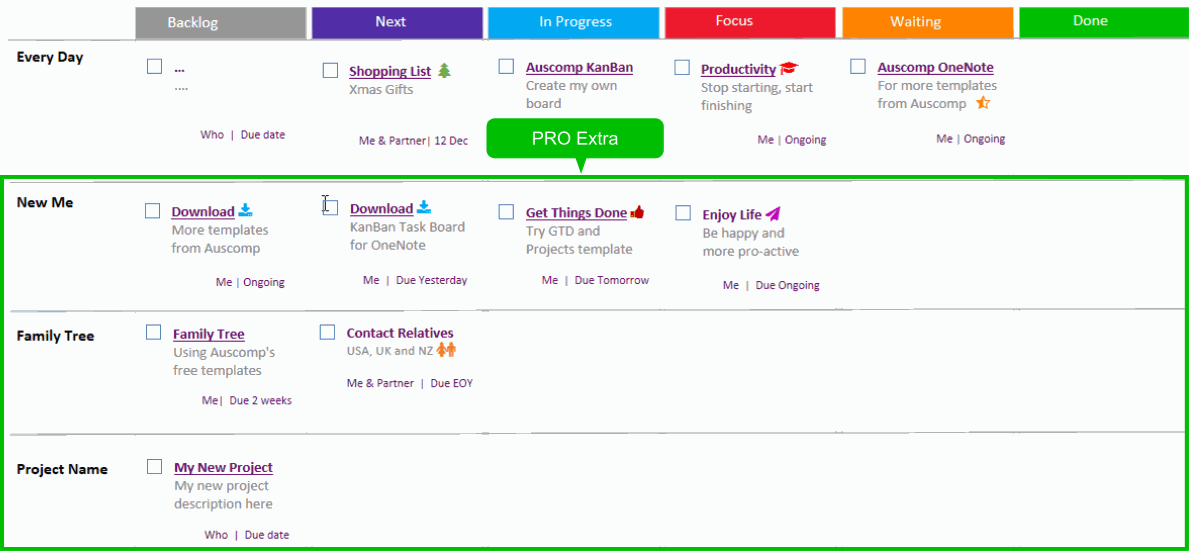 Stylish visualization of tasks (New in PRO V4)
Our unique OneNote task cards are styled to highlight title, show description, symbols, who's task it is and due date. You can even use images and attach files.  20+ Style cards to choose from.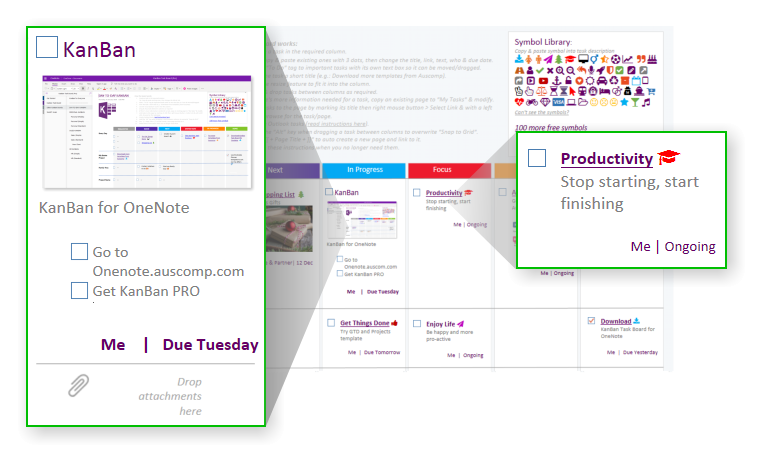 20+ Card styles to suit your needs or tasks you need to complete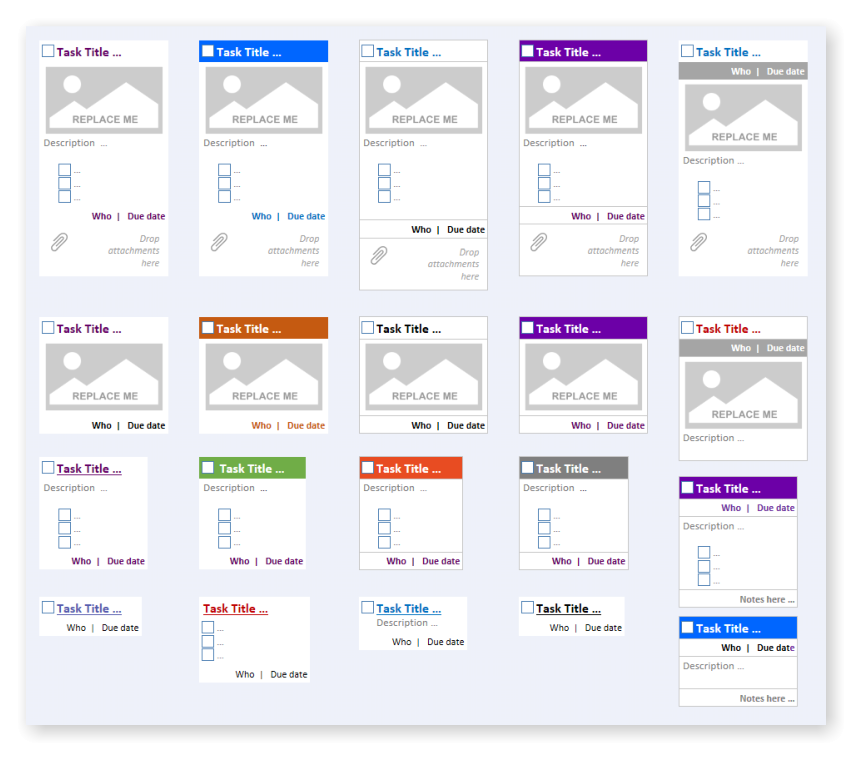 KanBan Boards for every workflow – 13 additional to choose (New in PRO V4)
Which one is for you? Use one Board or all.
Track progress with sub-tasks
Breaking tasks into workable sub-tasks lets you track progress separately. You can also include attachments and images on the sub-task page.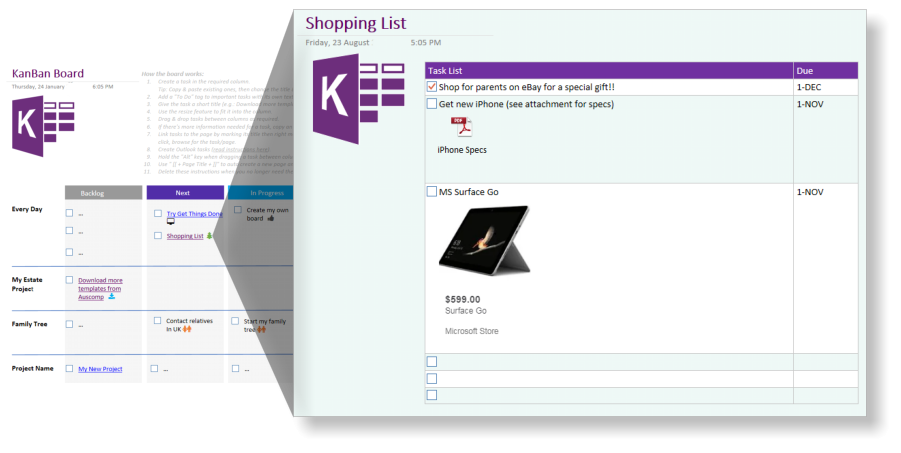 Link tasks to projects (Using the predefined Template in PRO)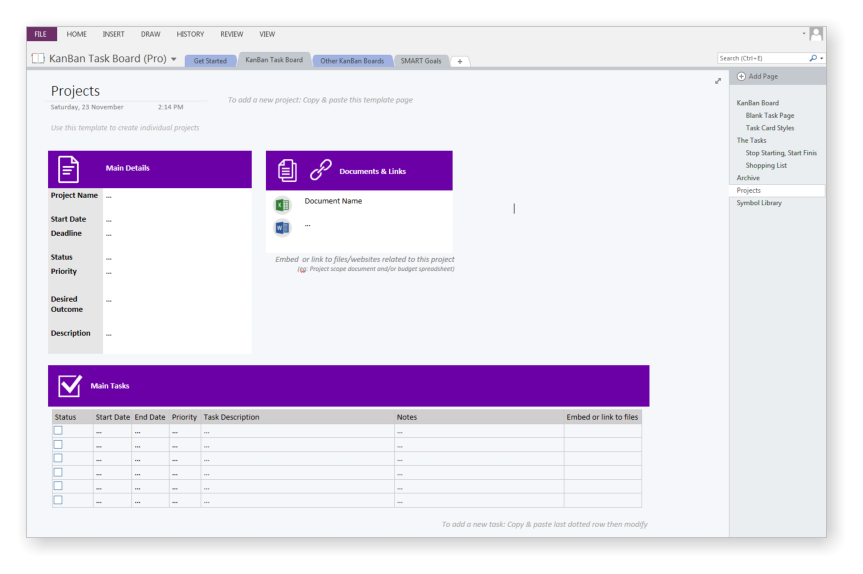 Highlight tasks using symbols & images – in PRO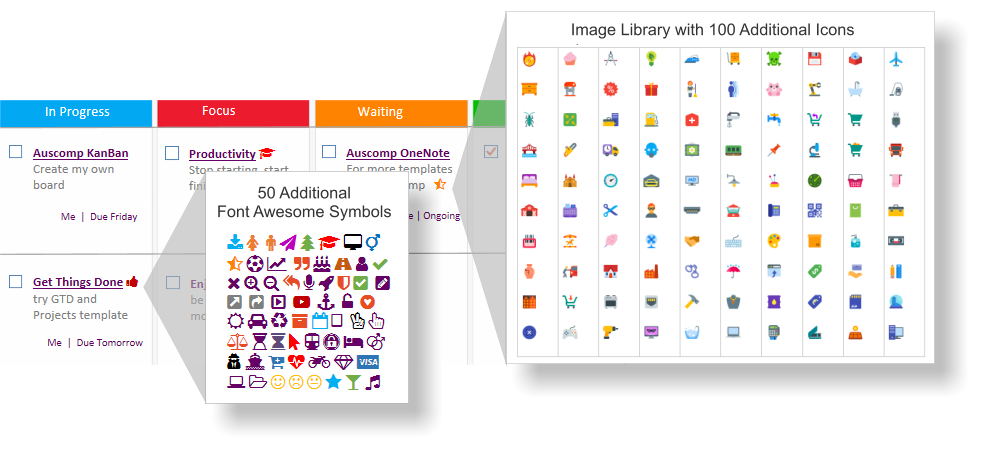 KanBan the no.1 productivity tool for visualizing tasks
KanBan Task Board for OneNote is easy to install and includes the following:
Get Started

Step by step guide to get you up and running fast!

KanBan Task Board

The default KanBan Task Board

50 Symbols

Highlight tasks with font awesome symbols
20+ Extra Task Card Styles

Stylish visualization of tasks with 20+ cards to choose from

13 Different Task Board Types

KanBan Task Board templates for everyone, including Day-to-day & time-planner, Personal, HR and Sales boards

Project Template

Link your tasks to your projects using this predefined template
Smart Goals

Template, guide and example

100 Images

Highlight your tasks with this image library
Note:
Templates are distributed in easy to install OneNote Notebooks and instantly delivered via email. 
The notebook structure can be customized to fit the specific needs of any user and their work environment.
Plus bonus collection of 32 ready made planners & calendars
Daily Planners
Expenses @ a Glance
Birthdays @ a Glance
Landscape
Portrait
Recurring Expenses
Bills Organizer
Weekly Editable
Weekly Time
Weekly Chores & Responsibilities
Weekly Chores for Kids
Daily Time
Organize Your Day Planner
One Day At A Time Planners
4 Weekly Planners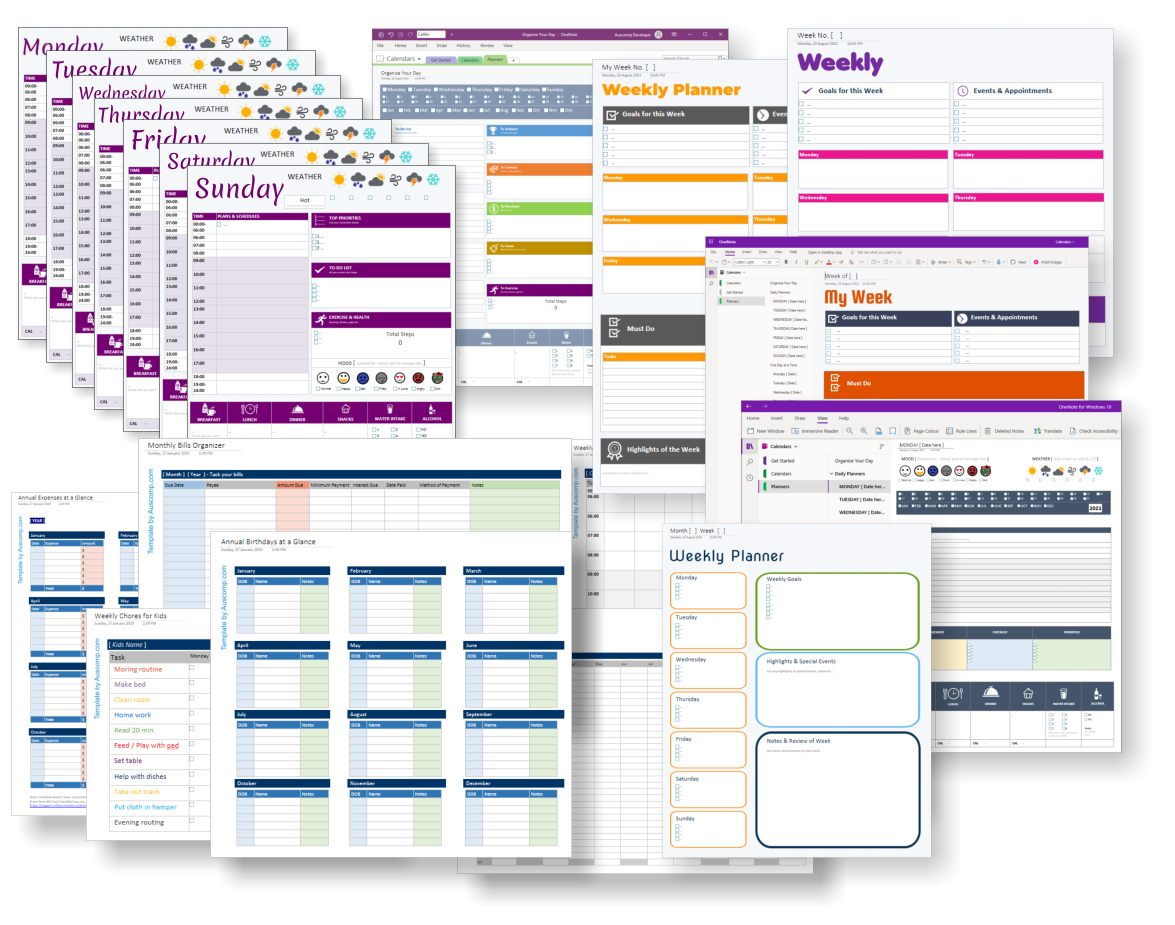 PRO Booster Home – Package
5 Notebooks with 50+ Templates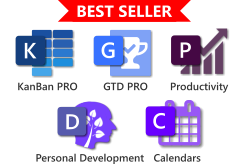 Mega Home Bundle
23 Notebooks with 100s of Templates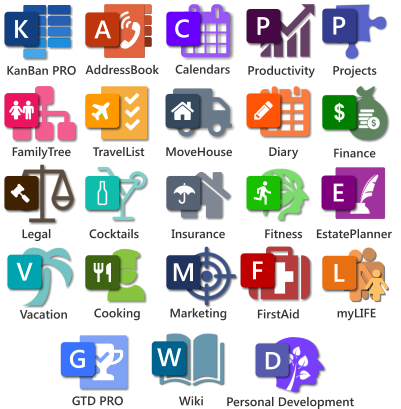 PRO Lifestyle
6 Notebooks with 70+ Templates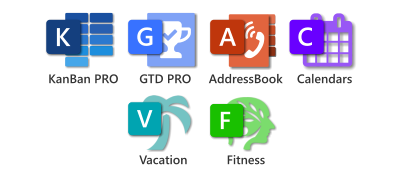 Instant delivery. Purchases are once off and include support. Yours to keep forever! Prices in USD.
PRO Booster Business – Package
7 Notebooks with 70+ Templates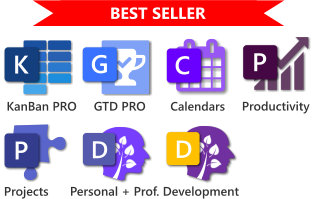 Team Booster Business
8 Notebooks with 90+ Templates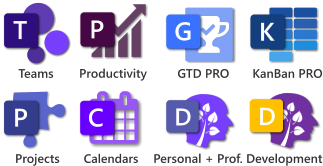 Business Suite
11 Notebooks with 100+ Templates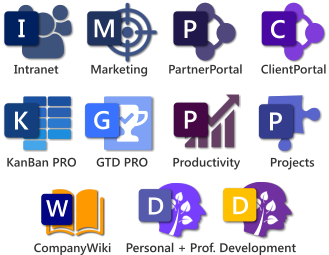 Instant delivery. Purchases are once off and include support. Yours to keep forever! All prices are in USD.

Licenses are for 1 user if not otherwise stated. Need more users? Volume licensing for non-profit, education, government and for enterprise.